Bonjour Mes amies. I was stuck in traffic having just completed another 9 to 5, more like 7:45 to 5, and the blue Nissan on my right had just cut into our lane. Great *says sarcastically*, another mechanical transportation to slow my intended destination. That would have been my response two weeks ago, but as the evening drew nearer my friend and I contin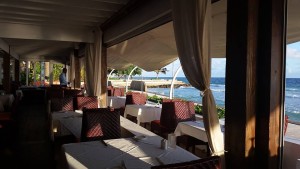 ued our blue sky conversation as if the roads were clear and we had not a care in the world!
I had forgotten my crystal ball at home – that would tell me if I would make it to our early dinner on time. wait…on time? The thought brought a quiet chuckle – I would always be on time, as I could never be late for my life.
Stepping out with clutch in hand we gracefully entered TAPAS restaurant as the setting sun gently tapped me on my shoulder, as if it was deliberately waiting to bid us adeau scratch that, bon nuit before we settled in for our comfortable fine dining. We had arrived!.
We were, without hesitation, ushered to our reserved table as if the Queen herself were dining with the trio, afterall, early dinning brought with it the perk of a next to empty clientele. We literally had the entire restaurant to our selves. We were seated on the edge of paradise as just a few steps to the right sat the gentle crashing waves of the Caribbean sea. There were no words to describe the sounds where water met sand, nor could it be mirrored. But if there were guests seated at the rear of our un-intended but welcomed 'self-imposed booked out restaurant', they would not be excluded, as the floor to sealing mirrored effect of this hand picked restaurant, brought the waves inland.
I could see why one would want to reserve a restaurant, the quiet peacefulness of our boisterous conversation, the entire staff eagerly seeking to cater to our every dining need, and by invitation joined in on the birthday celebration of our dear friend. We were not a difficult trio to please, just the taste of refreshing ice cold water brought smiles to our cheeks and our insistence that the staff and manager be part of this birthday celebration made the effortless effort worth every minute.
It seemed our undeniable need to laugh at every and any moment whisked the time away as it was un-noticeable that more than 2 hours had passed and the restaurant was bursting with chit chatter of several guests who all seemed to instantaneously appear from nowhere. The cling and chime of cutlery, crockery and courteous smiles surrounding the atmosphere reinforced that we were exactly where we needed to be.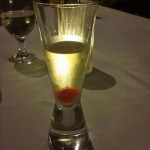 As we prepared to make our exit we were greeted with a pleasant surprise, three complimentary 'lemon drop' shots. How could we say no and why would we want to. Our sendoff was even more delightful than our entrance. Personal adieus from the staff and manager with genuine expressions of distinct pleasure having the privilege of meeting each other's company. Expecting the unexpected and requiring nothing we all secretly looked at each other thinking the exact same thing, what a great way to continue life.