I emerged from my lady's chambers and descended to the kitchen to prepare the most important meal of the day, "breakfast". I pondered briefly on this thought which most of us have heard several times during our youth and adult lives. The most important meal of the day. For a balanced diet one should have three square meals, breakfast, lunch and dinner. But if all else fails, breakfast is a must. Bacon and eggs, whole wheat cereal, sausages, pancakes, etc etc etc, the infinite finite list seemed limitless.
I was annoyed… as there sat on my counter the most mouth-watering, jaw dropping, laced with flavour, the crème de la crème, "Tarte Tatin". And to my dismay, breakfast must look, act and sound like breakfast, must it?
*Tick Tock, Tick Tock * I had never skipped breakfast before, and somewhere between my desire to indulge in this delicacy and my need to hold true to the teachings of the wise elders, I convinced myself to have my cake and eat it too! Both figuratively and literally!
So there it was. Each bite of the Tarte Tatin enlightened my taste buds and somehow was even more rich with flavour than the last. I had done it, the delicate, scratch that, drastic 'balance' between my wants and needs. I was not colouring outside the lines, or thinking outside the box. Moi, I was colouring with pens on a whole new level of boxes that I didn't even know existed. I revelled in the thought of living the life I choose.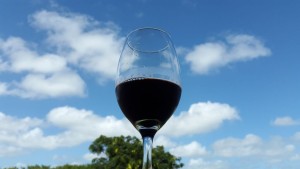 But why stop there, why only have cake for breakfast? I hadn't even finished the thought but my hand was already reaching for the bottle of dessert wine nestled conveniently in my wine rack, within arms' reach. My body was already reacting to my mind's desire -"Muscle memory" – as a warm feeling of contentment overwhelmed me…or maybe it was the wine *winks*.
TML!