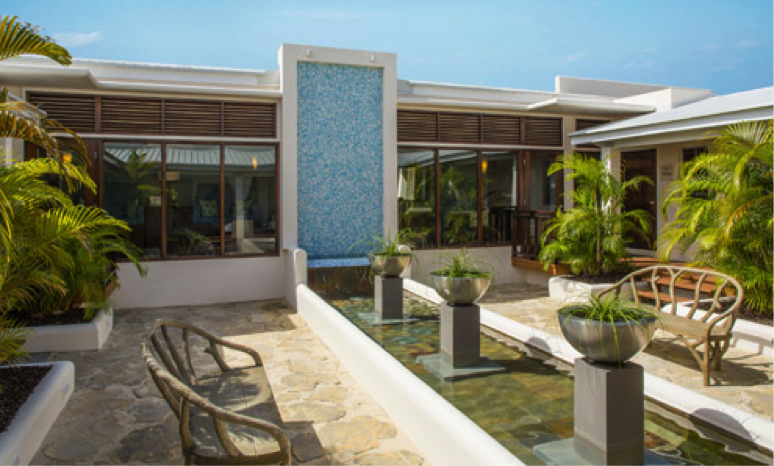 I must have been sleep walking, sleep-walking through my life. It took me 30 seconds to recognise that the bellman was trying to get my attention "Ma am?, Ma am?, it's just up this path to your right, pass the palm tree with the red dot, the second pergola with the hanging yellow orchids and the helpers tray is usually on the left…keep straight".
I smiled internally although my face was still sleeping and thanked him graciously for his directions, without missing a beat he escorted me to – Janissa's Spa! I was immediately transported to one of the tea Gardens in Nara, Japan or the Arashiyama Bamboo forest in Kyoto. The garden was a cosy tranquillity that immediately centred my Chí.
I inhaled; the air was crisp clean with hints of salt, a reminance of the 2.5 mile long white sand Grand Anse beach – just minutes away. The air must have been filtered and sent specifically to this spa. I wonder if they knew the magic had started?
I floated down three small steps to lightly glide my fingers along the water that trickled from the sky-blue feature which made minute waves that matched my every breath. I could feel my shoulders relax and loosen – this was only the foyer and already Janissa had surpassed my expectations.
Freshly cut, freshly brewed, straight from 'our' private garden – lemon grass tea tickled my senses, lightly sweetened with a drop of honey.
The seconds turned to minutes, the minutes to hours and hours seemed to turn to days. I got lost in the serenity of it all – as the oils and fragrances awakened my being from my head to toe pampered to perfection experience.
And just in case I was 'too exhausted' to leave this peaceful heaven, on my departure, there it was! – my very own day bed, lined with white cotton comfort for that one last relaxing exhale – ahhhhh yessss! This is the Life!
TML
#themillionairelifestyle101